Shoot In China is a one-stop-shop for all your photo and film studio rental needs in Chengdu and beyond. We understand that finding the perfect location for your photo or film shoot can be a daunting task. That's why we offer a variety of studio spaces for rent that cater to different production needs.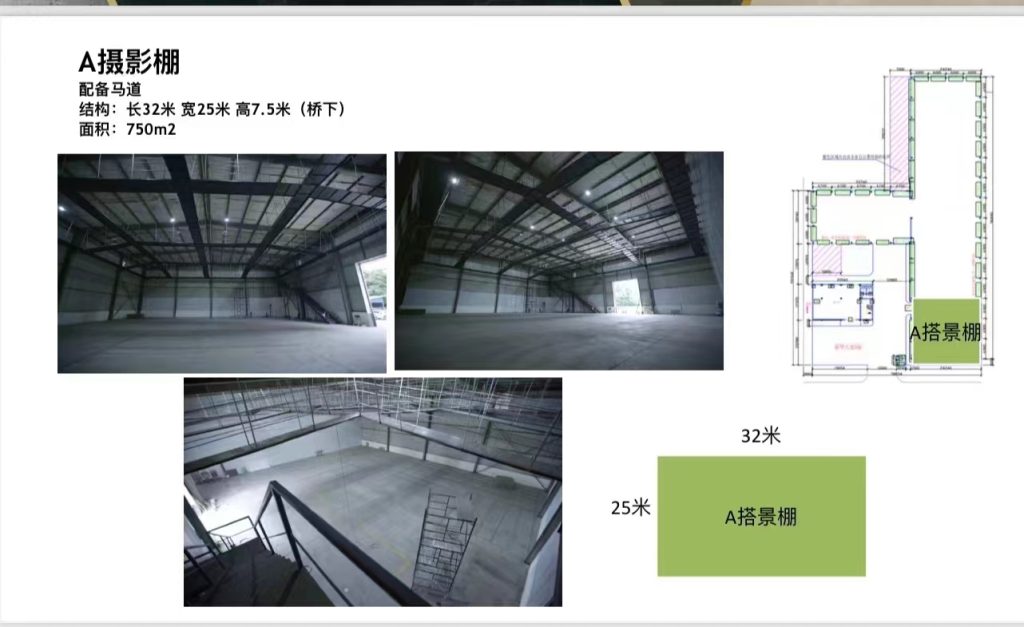 Studio Name: A Studio
Features: Equipped with a runway
Structure: 32m (L) x 25m (W) x 7.5m (H under the bridge)
Area: 750m²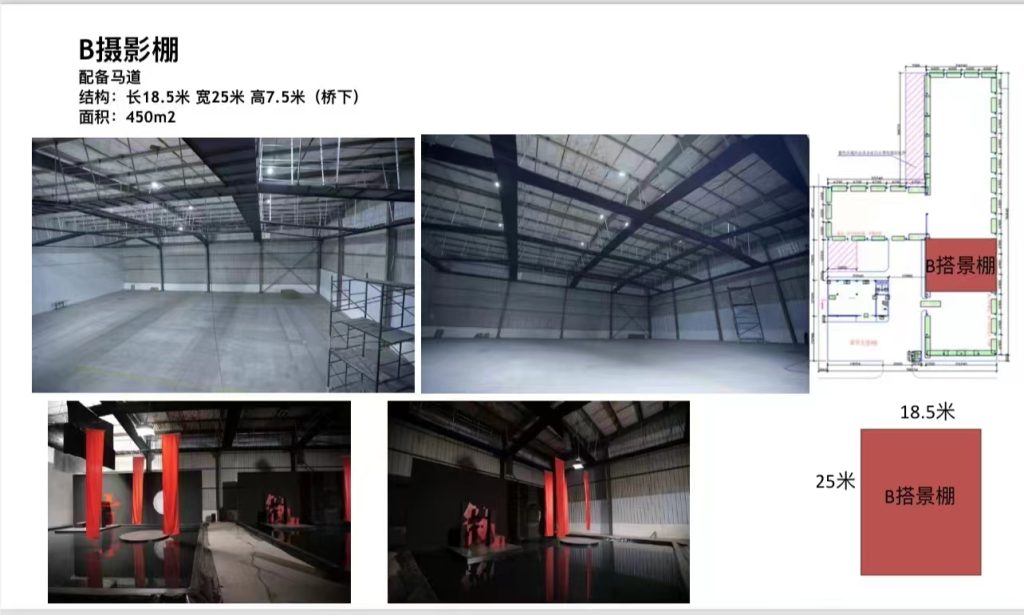 B Studio
Equipped with a runway
Structure: 18.5m long, 25m wide, 7.5m high (under the bridge)
Area: 450m2
Our photo studios come equipped with top-of-the-line lighting and camera gear, including Arri, Sony, Canon, Blackmagic, and cinema lenses. We also have grip equipment such as jibs, cranes, tracks, dollies, tripods, and monitors to ensure that your shoot is smooth and successful. For those who need drone footage, we also have an experienced team of licensed drone pilots.
If you're looking for a film studio, we have pre-built sets that can be customized to fit your project's specific requirements. Our stand-in sets include a green screen studio for those who need special effects or want to add background footage in post-production.
At Shoot In China, we also offer video production services that cover everything from pre-production to post-production. Our team of experienced filmmakers can help you create engaging corporate videos, promotional videos, music videos, and documentaries. We use the latest technology and equipment to ensure that your video production is of the highest quality.
Shoot In China doesn't just offer studio rentals and video production services in Chengdu. We also provide full coverage in other Chinese cities, including Beijing, Shanghai, and Guangzhou. Our extensive network of contacts and resources enables us to provide the same level of service in these cities as we do in Chengdu.
In addition to photo and film studio rentals and video production, we also offer other services such as equipment rental and crew hire. Our team includes DITs, 1st ACs, and camera crews who are experts in their field and can assist you with your project.
For those looking to produce a film in Sichuan, we offer full production services that include location scouting, casting, and logistics. Our experience in the Chinese film industry means that we can handle all aspects of your production, whether it's a small independent film or a major blockbuster.
In conclusion, Shoot In China is your go-to solution for all your photo and film studio rental needs in Chengdu and other Chinese cities. Contact us today to learn more about our services and how we can help you bring your project to life.